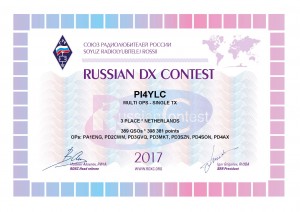 In diesem Monat März sind die Dutch Young Ladies voll beschäftigt. Ab 1. März funken wir für das Dutch YL-award 2018. In diesem Moment sind schon über 500 Rufzeichen im Log. Weitere Informationen, sehe www.pi4ylc.nl/award.
Nächstes Wochenende wird die Contestgruppe wieder mitmachen im Russian DX Contest (RDXC). Dies ist einen Contest, den darauf abzielt möglichst viele Russische Oblasten (Landkreise) zu kontaktieren in CW oder/und SSB (sehe www.rdxc.org). Es ist schon das 6. Mal dass wir teilnehmen! In 2013 und 2014 waren wir zu Gast in Eindhoven bei Contestgruppe PI4TUE. Wir hatten sogar einen "Battle of the Sexes" gegen die OM's von PI4TUE. In 2015 und 2016 bestand war unser Standort in Ell (Niederländisch Limburg) mit einem Fieldday-setup. Letztes Jahr war Hans PA0Q (dann PA1HR) unseren Gastgeber. Danke an Alle, für die Gastfreundschaft!
Dieses Mal werden wir zu acht (!) mit dem Rufzeichen PI4YLC im Contest teilhaben vom QTH von Ramona PD9YL und ihr OM Raymond PA5DX in Rectum (Wierden). Schön zu sehen dass immer mehr Young Ladies sich anschliessen zur operatorgruppe. Wir hoffen dass wir gemeinsam viele schöne QSO's haben im Contest!
Cu in RDXC 2018!