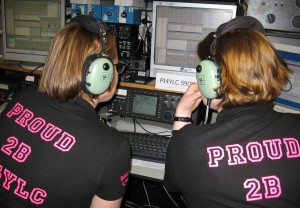 In 1981 VERON (the largest Dutch RadioAmateur Association) decided to setup a committee for female radioamateurs: the Dutch Young Ladies Club. This committee would use the call PI4YLC. Several contests were held like a coffeecontest on VHF and a midwintercontest on HF.
As from 2007 the Dutch Young Ladies CLub is part from the Traffic Buro, a committee for radioamateur activity on HF.
In april 2012 some Young Ladies join in a contestteam. In the beginning they are contesting from PI4TUE (Technical University of Eindhoven), but when in 2014 this station is ended other solutions are found. From that moment on multiple contests were done by multiple YLs in the team.
As from the last participation from Eindhoven the Young Ladies contestteam uses the slogan 'Proud 2B PI4YLC'. This contest was a 'battle of the sexes' as the OMs of PI4TUE participated in the same contest; two contestteams from the same QTH.
Besides contesting PI4YLC is active in several other radioamateur related activities. We visited PI4HAL, activitated PI33YLC and participated in the International Lighthouse and Lightship Weekend (ILLW) from the lighthouse of Noordwijk.
You can also find PI4YLC on QRZ.com: www.qrz.com/db/pi4ylc