T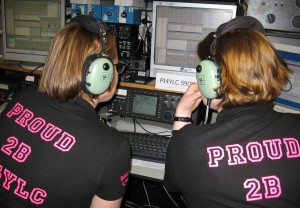 he Dutch Young Ladies Club is part of the VERON (a Dutch Radio Amateur Society) and was founded in 1981. The ladies formed a contestgroup, starting in 2012. Their slogan is 'Proud 2B PI4YLC'. On various occasions PI4YLC has been active at the conteststation of PI4TUE and also at other locations. Purpose is to enhance (contest)skills, learning more about radio operation and having fun!
Besides contesting, PI4YLC also engages in other HAM­radio activities. The ladies have been guestoperators on the Steamship Rotterdam (PI4HAL) and participated in the International Lighthouse and Lightship Weekend (ILLW). More information can be found on this website.
A presentation about the Dutch Young Ladies Club, the contestteam and the other activities will be held at several divisions of VERON throughout the country.